I love exercising, and I'm trying to go with a healthier diet, but I slip up all the time. It's not awful, though, because I have a pretty high metabolism, and as I said, I love working out, so I burn most of the calories again.
Still, now autumn's coming, it's getting darker and colder outside and I work nights twice a week, so it's getting a little harder to get out and move my ass around, so I decided to go with a work-out diary last week, which I would post here. That way, if I was lazy and fat, everyone would be able to see it and I would be really embarrassed. It's not crazy detailed, because that wasn't the point, but here's my week:
Monday
: 1 hr tennis and a short interval run with a friend - 2,6km incl. warmup.
Tuesday
: 1 hr tennis.
Wednesday
: Resting (/work)
Thursday
: Before noon I went to the fitness center; 15 mins on the "granny machine"
1
and strength training for abs, back, arms and legs, pretty much allround.
In the evening I went for a run approx. 4,8km with a "pause" midway where I did 10 push ups, 30 sit ups and 30 back exercises. 29 mins.
Friday
: 45 minutes on the bike, went for a long-ass walk, I was drunk, but it still counts!
2
Saturday
: Fitness center; 25 minutes on the granny machine, did a little core training but I was kind of sore, so I didn't go overboard.
Sunday
: Spent the day being fat with a friend.
T-Rex having a lazy day.
Gets his junk food delivered!
1: I've come to understand,

that t

he granny machine is

called an elliptical machine by the broad public
.
When I first met it, though, all I was told was that it was better for your joints than running, and I saw how stupid people look

ed using it.
The s

ucker looks like this: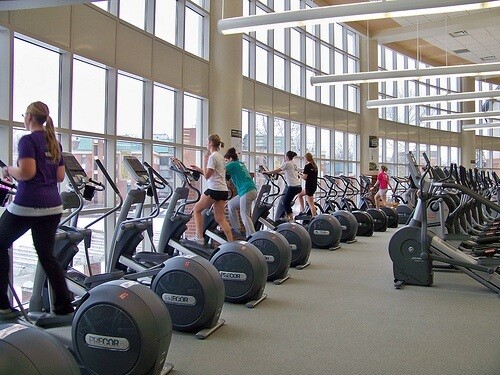 Weird stuff, but it's really good for multitasking. I usually study when I use it!
2: Remember, people

;

d

rinking means adding calories, but that doesn't mean you can't burn some while you enjoy the effect. Get out on that dancefloor and shake what you got

!